The Management of DOCRILUC, S.L., a company dedicated to the design, manufacture and marketing of commercial and industrial refrigerated furniture for hotels and communities, conservation chambers and storage shelves. Hospitality furniture testing laboratory, develops this policy as a basis for quality assurance in its activities and, aware of the environmental impact associated with these, is committed to the prevention of pollution, integrating the protection of the environment in the development of its overall management.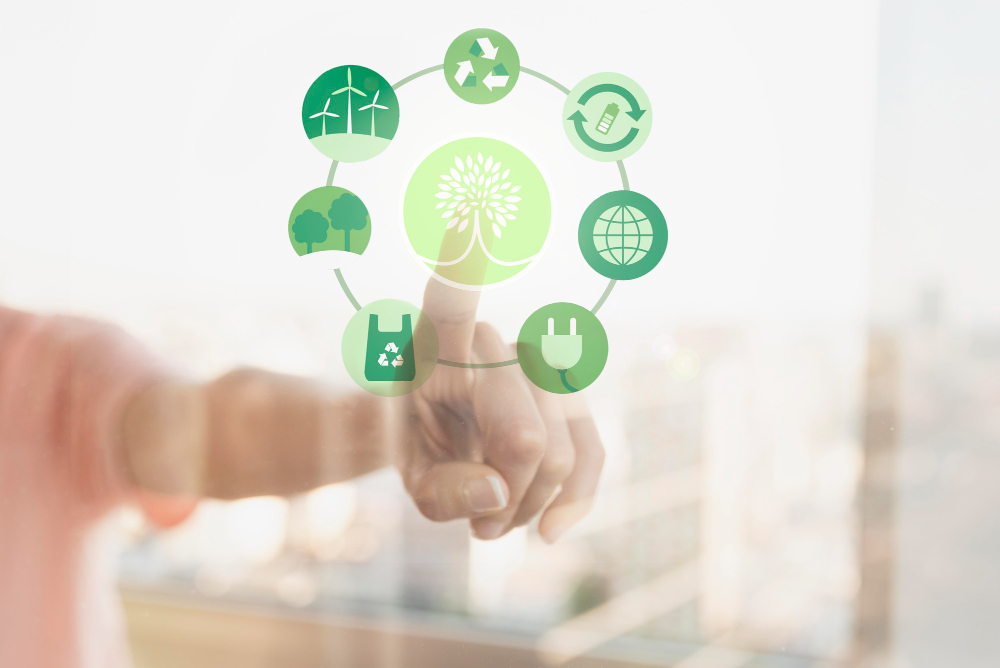 The pillars that it establishes as the basis of its system are:
• Achieve customer satisfaction through the proper functioning of the Integrated Quality and Environment Management system.
• Ensure quality by basing your decisions on facts, data and Quality Plans.
• Guarantee the capacity of suppliers to supply their products and ensure that they respect the environment. For this, the appropriate means of communication and methods are established, promoting the best use of the natural resources necessary for its activity and the reduction of waste and polluting effluents of the atmosphere, soil and water, ensuring that the most advanced technologies are applied. clean at your fingertips.

DC Council Directive on Electrical Safety DC73/23CEE and Electromagnetic Incompatibility DC89/336/CEE and its modification by Directive DC93/68/CEE.

All our products are prepared to comply with Regulation CE852/2004 incorporating the HACCP module that is supplied on demand.

We certify that the wooden packaging and pallets that protect our products are treated with thermal shock certified by our supplier in compliance with international standards ISPM No. 15.
Our products comply with the ROHS 2002/93/CE regulation that determines the non-use of hazardous substances in certain concentrations allowed in electrical and electronic equipment.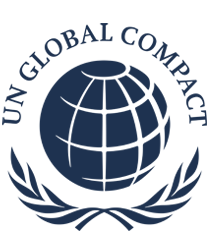 Docriluc follows social responsibility policies and is a member of the Global Compact.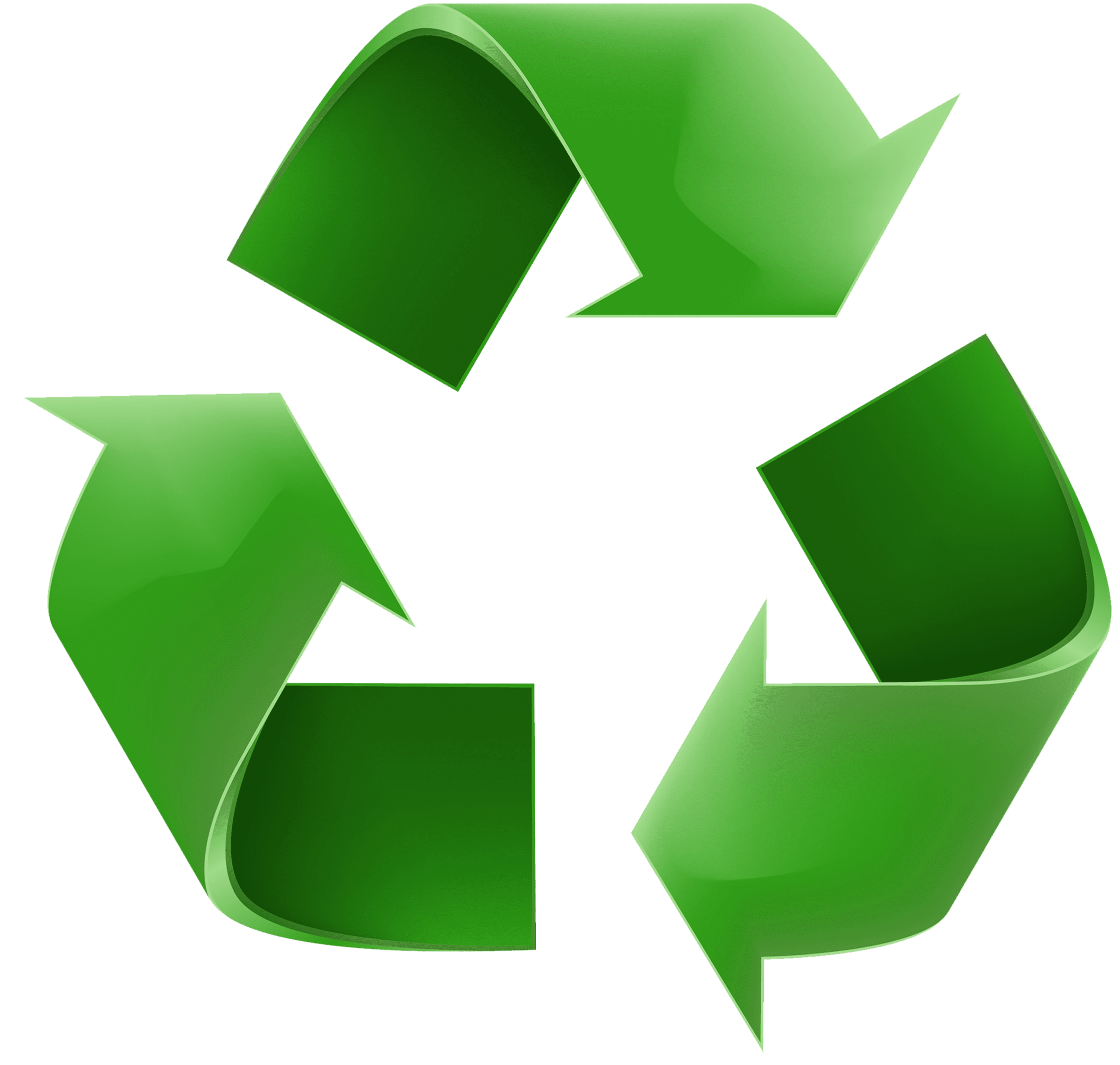 Docriluc complies with an integrated waste management system for electrical and electronic equipment.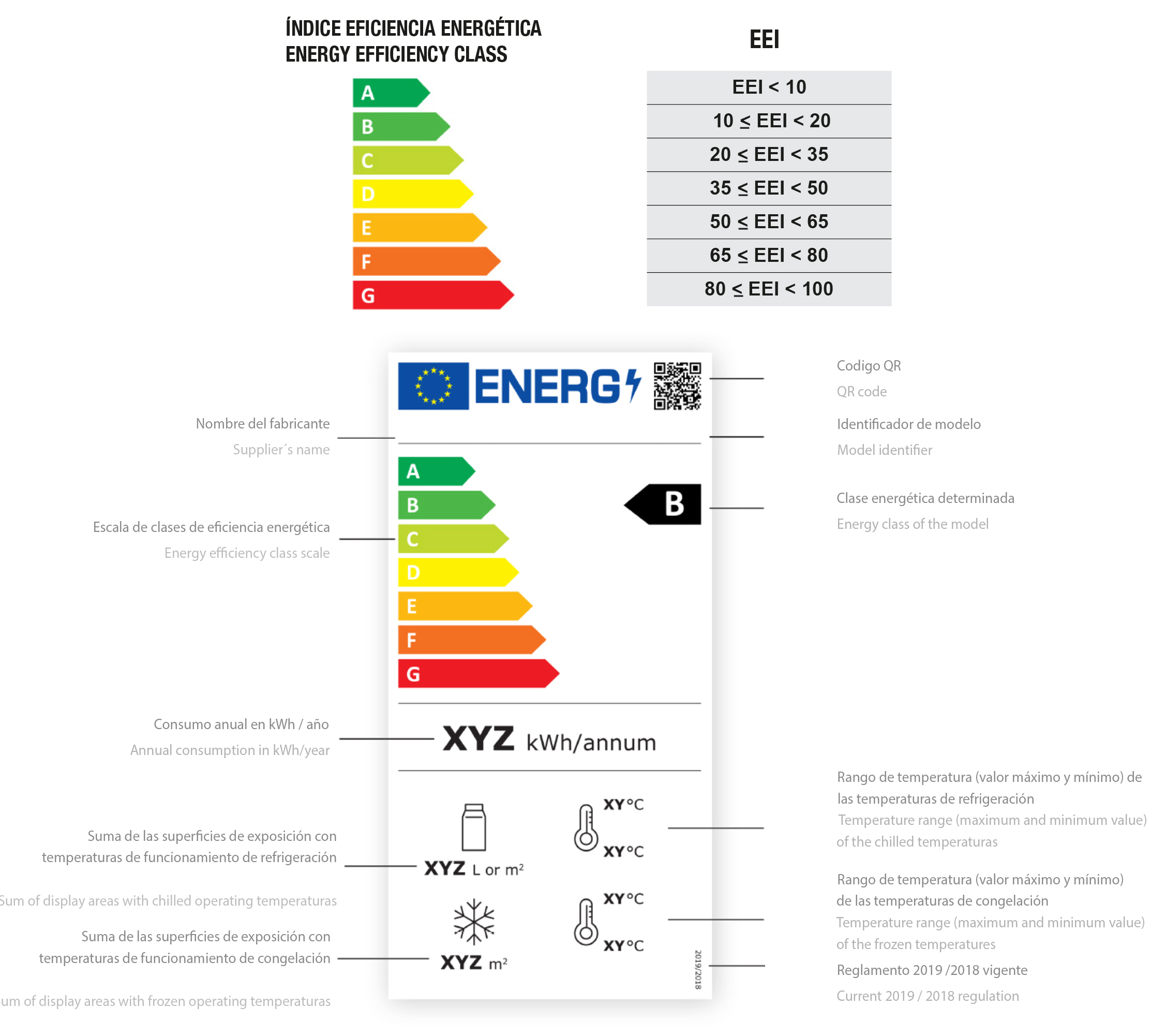 The application of Directive 2009/125/EC, through DELEGATED REGULATION (EU) 2015/1095 (eco-design requirements for professional refrigerated storage cabinets, blast-blasting cabinets, condensing units and process chillers) and DELEGATED REGULATION (EU) 2019 / 2024 (ecodesign requirements for refrigeration appliances with direct sales function), have introduced important changes for equipment manufacturers and distributors, designed to clarify the energy efficiency of professional and direct sales refrigeration equipment, which must be applied to furniture through energy labeling, according to directive 2010/30/EU+2017/1369, through DELEGATED REGULATION (EU) 2015/1094 (energy labeling regulation for professional refrigerated storage cabinets) and REGULATION DELEGATED (EU) 2019/2018 (related to the energy labeling of devices with a direct sales function). This aims to reduce energy consumption in the field of said products, through an energy classification that provides the team with quantitative information on annual electricity consumption, based on various parameters of capacity, visibility and operation, which causes there to be increasingly efficient equipment, requiring the use of new components that achieve this task and in turn have the least ecological impact on the environment.
DOCRILUC is in an advantageous position to offer a range of high efficiency in all its products, elevating some of the references among those with the lowest energy consumption on the market.
DOCRILUC, se encuentra en una posición aventajada para ofrecer una gama de alta eficiencia en todos sus fabricados, elevando algunas de las referencias entre las de menor consumo energético del mercado.
Bases where our quality is sustained • Compact metal assembly, joined by anti-thermal transmission barriers and insulated with high-density injected polyurethane, 40 Kg./m3, which provides high robustness and no CFS content and zero 0DP (Ozone depletion potential) and low in GWP (global warning potential)
• Increased insulation: use of HFO as an expanding agent to reduce the thermal conductivity of the injected polyurethane foam, which helps reduce recyclability costs according to current regulations.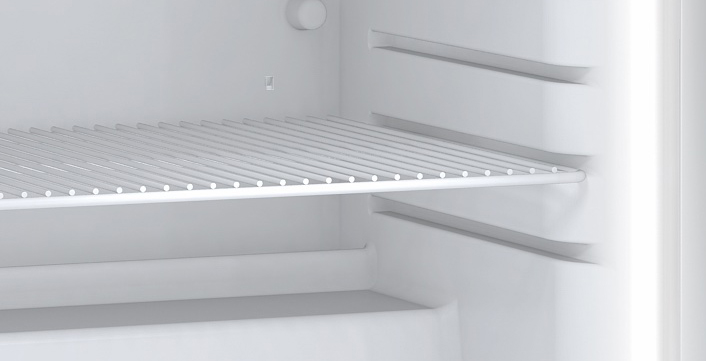 • Built with materials suitable for the preservation and storage of food products, with curved edges that are easy to cleaning, according to Royal Decree 1435/1992, RD.56/1995 within the LOC 89/392 standard.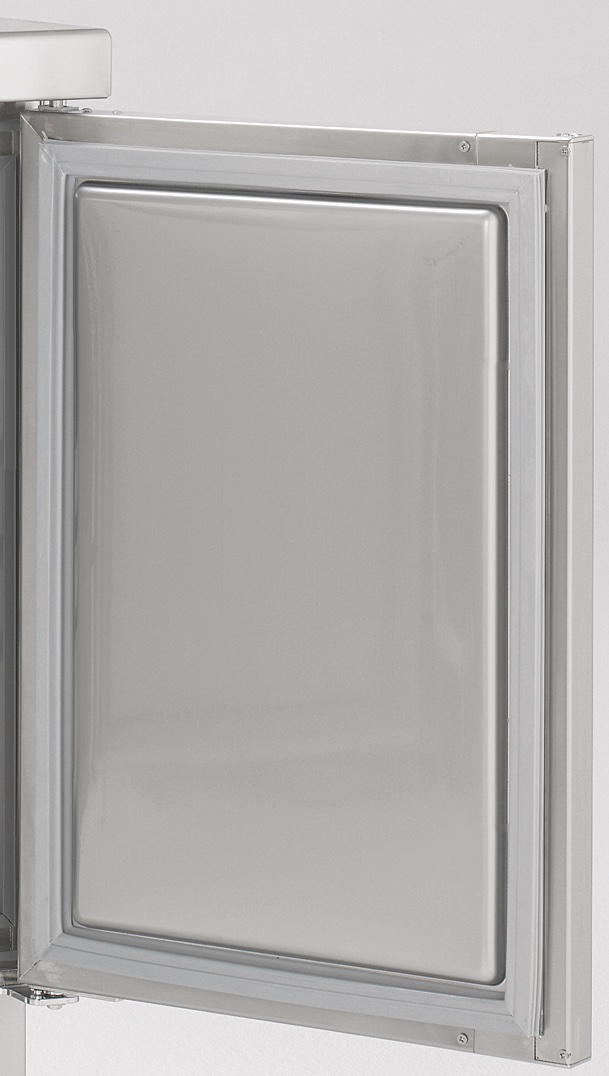 • Mounted on a hinge with automatic closing with constant tension that allows hermeticity all around.
according to the range there are two models compact and simple, which allow control
• It has a retention system to facilitate the loading of the product to be preserved. temperature, humidity and defrosting. • High flexibility gasket, which ensures perfect sealing.
Tous Docriluc manufactures several types of electronic controls equipment,
in the display cases.
In function of the range that we have developed for simple and compact models, and ils
Allows you to control the temperature, humidity and temperature.
• Plastic profile that houses the easily removable weatherstrip and also forms a thermal barrier.
• Same insulation quality as the structure
• Use of double glass display doors in the case of wall display cabinets that reduce energy consumption by 06. ABS DOORS by more than 35%.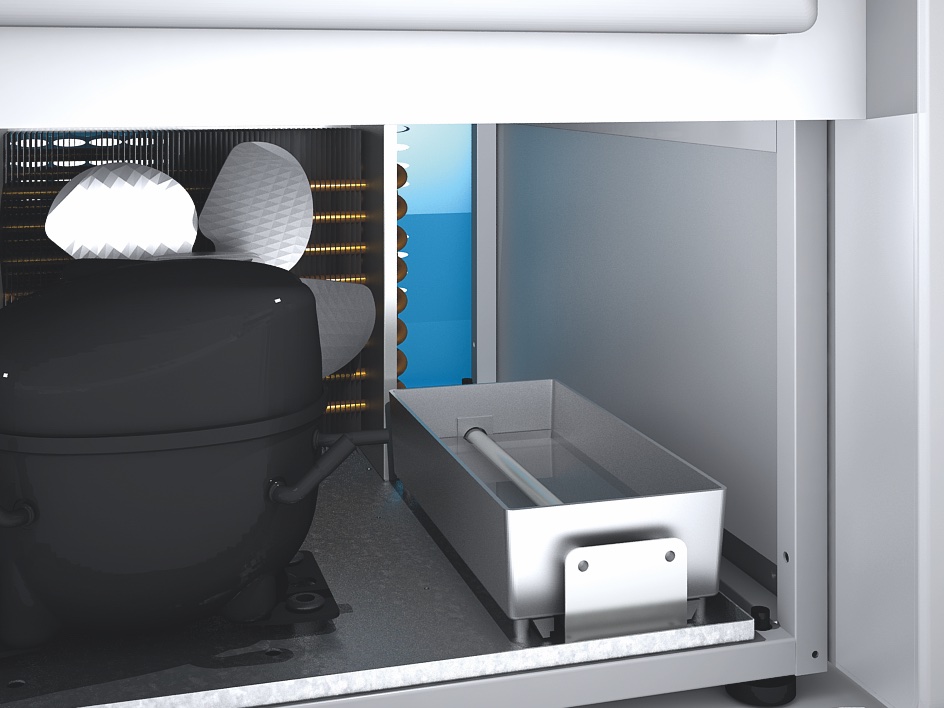 • The ventilated condensing unit forces the exchange of the heat produced to the environment, improving the performance of the cold room. Heat dissipation is done at the bottom by spreading away from the condenser inlet.
• Use of high starting torque and high COP compressors.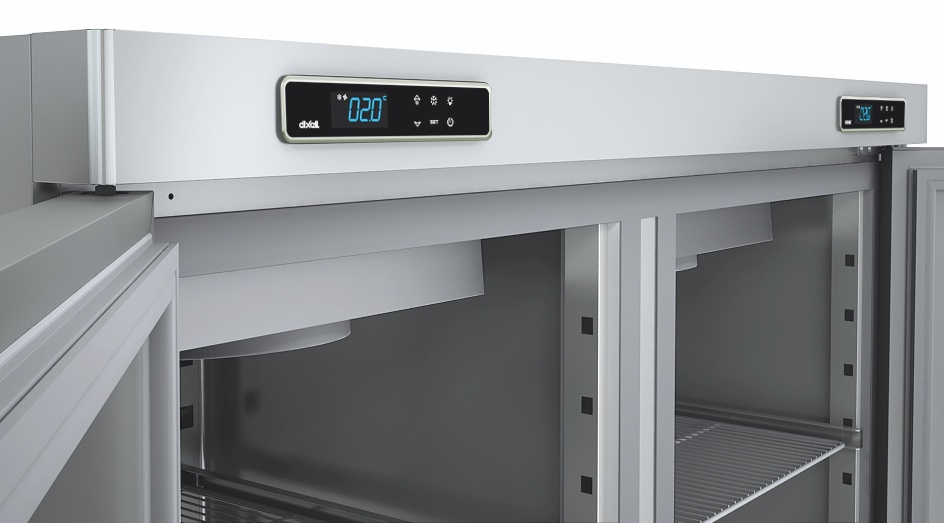 ELECTRONIC CONTROL OF OPERATION.
• It obtains the highest performance and the lowest consumption since all the parameters are carried out with the greatest precision, displayed 07. STRUCTURE on the display integrated in the cabinet. Easy adjustment of control parameters.
• Encapsulated and sealed NTC type probe.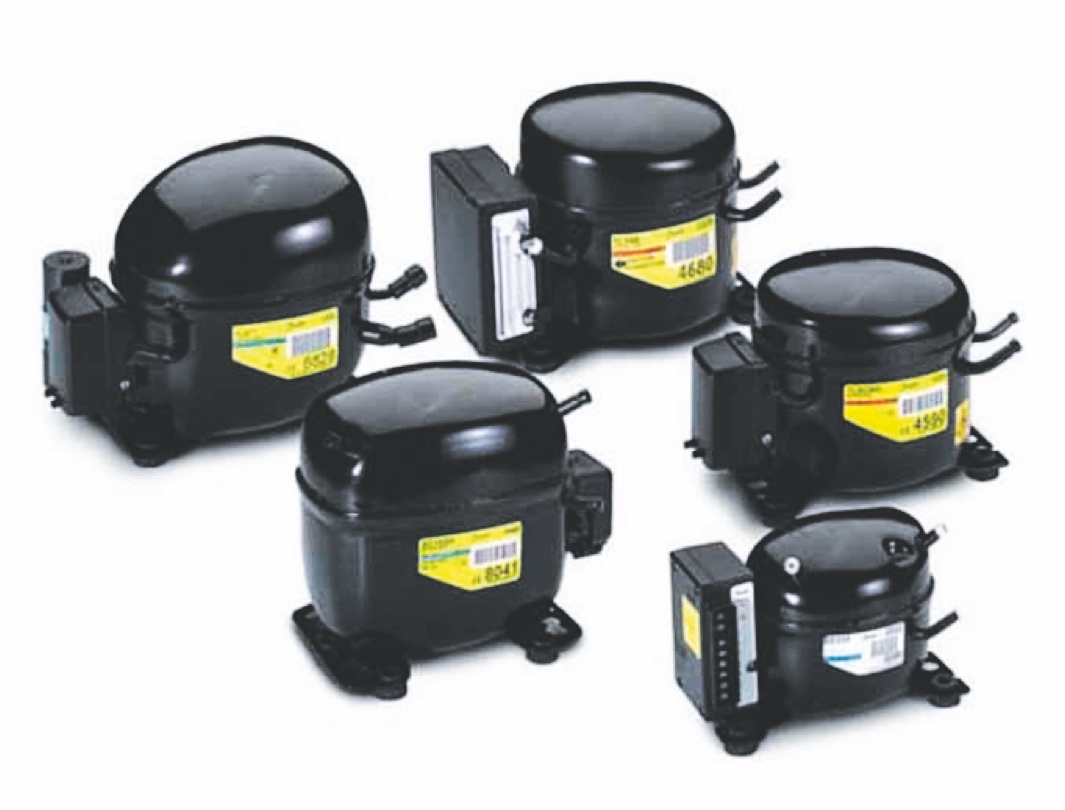 MANUFACTURING OPERATION CONTROL.
• All our products go through a tightness test by means of a pre-vacuum, vacuum and final control of stable loading pressure by means of a machine, ensuring tightness and subsequently refrigerant loading with a pressure of +-0.5%.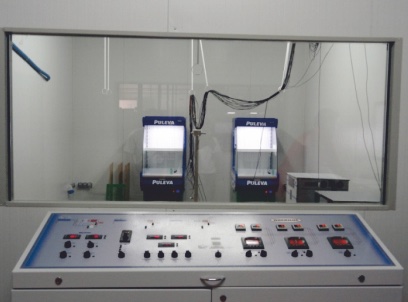 STUDY AND EVOLUTION OF PERFORMANCE.
• All our designs have passed through our certified laboratories, where the elements and components are studied and developed, creating a balanced system, achieving the lowest consumption and the longest useful life with hardly any maintenance. They are certified by BUREAU VERITAS.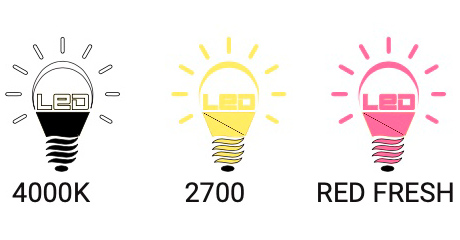 • LED lighting that produces double savings, as it does not have to compensate for higher refrigeration consumption and a difference of 90% compared to traditional lamps.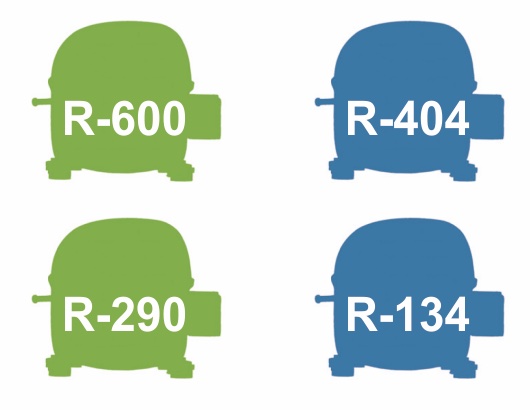 • Compliance with EU regulation 517/2014 (F-GAS), whose purpose is to reduce CO2 emissions to favor a reduction in global warming. This regulation indicates that HFCs with GWP greater than 2500 will be prohibited as of January 2020, while as of January 2022 HFCs with GWP greater than 150 will not be allowed in commercial applications (refrigerators and freezers).
• Use of hydrocarbon gases, mainly R-600a and R-290 in most of the equipment, with GWP equal to 3, which means that they have no temporary limitation for their use. More efficient gases from a thermodynamic point of view and with better energy performance that translate into less noisy and smaller compressors.
• Use of new HFC gases, such as R-449A (GWP=1396) and R-452A (GWP=2139), which achieve the same energy performance as traditional gases, R-404A, and which are approved for the compressors of said gas. The use of these gases will be limited from 2020.
• Use of fully recyclable products, complying with all CE regulations from the production chain, being permanently updated of any new developments in this regard.
• Control of noise pollution, through tests in approved laboratories in order to reduce said emissions.
• Environmental management of waste to achieve the minimum environmental impact.